A convoy of aid trucks has been hit by an air strike near the Syrian city of Aleppo, reports say, hours after the military declared the current cessation of violence was over.

One unconfirmed report said 12 people were killed in the attack near the town of Urm al-Kubra. A UN spokesman said at least 18 of 31 trucks had been hit but could not confirm it was by an air strike.

UN Special Envoy for Syria, Staffan de Mistura, said it was an "outrage".

"The convoy was the outcome of a long process of permission and preparations to assist isolated civilians," he said in a statement emailed to Reuters.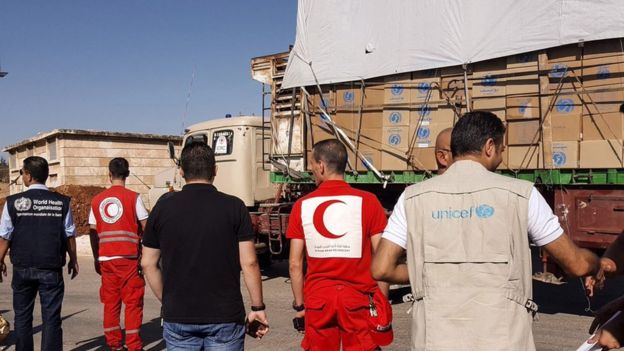 The Syrian Red Crescent said the convoy had been making a routine delivery from Aleppo to rural rebel-held areas. Images posted online showed lorries and trailers engulfed by flames.
Activist group the Syrian Observatory for Human Rights (SOHR) said 12 people - aid workers and truck drivers - had died in a strike by Syrian or Russian warplanes. The Syrian government has not commented.
A witness told Reuters by phone that about five missile strikes had hit the lorries, which were parked at a centre belonging to the Syrian Red Crescent in Urm al-Kubra.
Mr de Mistura's humanitarian adviser, Jan Egeland, said the convoy had been "bombarded" while offloading at warehouses. About 78,000 people are in need of aid around Urm al-Kubra.
Ingy Sedky, of the International Committee of the Red Cross, described the situation at the scene as "very chaotic".
"We are deeply shocked that humanitarian workers and missions have yet again suffered from the brutality of this conflict," she told AFP.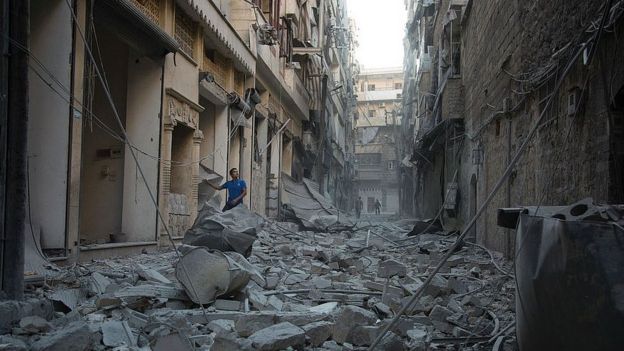 Aid deliveries to besieged areas were a key part of the cessation of hostilities deal brokered by the US and Russia seven days ago.
But the Syrian military and rebels have accused each other of violating the truce.
Earlier, air strikes were reported to have resumed on Aleppo and other cities after the Syrian military declared the seven-day "regime of calm" at an end.
It said rebel groups, which it referred to as "terrorists", had failed to commit to any provisions of the truce deal.